miis tagged with: spotpass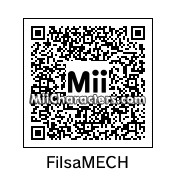 Created by: TeeOS
Alter ego to Nintendo of America's president Reggie Fils-Aime, featured in Mega64's E3 video. Visited people during E3 via spotpass.
Categories: Miscellaneous
Created on the: 3ds

Created by: HelloWorld
An employee of Nintendo, known for producing games such as Super Mario Sunshine and NES Remix. This is a recreation of his Spotpass Special Mii.
Categories: Miscellaneous
Created on the: 3ds