Famous Mii Characters & QR Codes
for your Nintendo Wii U, Wii, 3DS, and Miitomo
Search for famous Mii Characters and get printable, step-by-step instructions on how to create them. Scan Mii QR Codes with your 3DS, Wii U, or Miitomo App.
Fill your Mii Plaza with celebrities!
Mii of the Day - Thursday, December 02, 2021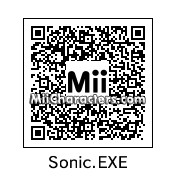 Created by: JetFox89
The creepypasta version of Sonic the Hedgehog. He killed Tails, Knuckles, and Dr. Robotnik. His story was written by JCHyena and his game was made by My5tCrimson. READY FOR ROUND 2?
Categories: Miscellaneous
Created on the: 3ds