Famous Mii Characters & QR Codes
for your Nintendo Wii U, Wii, 3DS, and Miitomo
Search for famous Mii Characters and get printable, step-by-step instructions on how to create them. Scan Mii QR Codes with your 3DS, Wii U, or Miitomo App.
Fill your Mii Plaza with celebrities!
Mii of the Day - Monday, December 10, 2018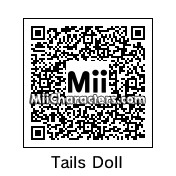 Created by: Pixelshift
The Tails Doll from Sonic R and a widely-known creepypasta. Sure, it may look all friendly, but keep it in another Mii room -- Don't ask, just do it.
Categories: Miscellaneous
Created on the: 3ds