Famous Mii Characters & QR Codes
for your Nintendo Wii U, Wii, & 3DS
Search for famous Mii Characters and get printable, step-by-step instructions on how to create them. Find Mii QR Codes and scan them with your 3DS or Wii U.
Fill your Mii Plaza with celebrities!
Mii of the Day - Saturday, October 25, 2014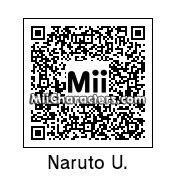 Created by: Golden
The hyperactive, knuckle head, orange ninja of Konoha, is the main protagonist in the "Naruto" series. He's the Nine Tails' jinchuriki, who aspires to become Hokage.
Categories: Toons
Created on the: Wii U