Famous Mii Characters & QR Codes
for your Nintendo Wii U, Wii, 3DS, and Miitomo
Search for famous Mii Characters and get printable, step-by-step instructions on how to create them. Scan Mii QR Codes with your 3DS, Wii U, or Miitomo App.
Fill your Mii Plaza with celebrities!
Mii of the Day - Saturday, August 24, 2019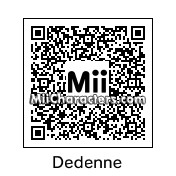 Created by: SoopaKoopa
On the face of this Mii is the new electric type Pokemon from the Kalos region whose whiskers serve as antennae. By sending and receiving electrical waves, it can communicate with others over vast distances.
Created on the: 3ds