Famous Mii Characters & QR Codes
for your Nintendo Wii U, Wii, & 3DS
Search for famous Mii Characters and get printable, step-by-step instructions on how to create them. Find Mii QR Codes and scan them with your 3DS or Wii U.
Fill your Mii Plaza with celebrities!
Mii of the Day - Monday, March 02, 2015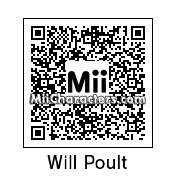 Created by: AnthonyIMAX3D
English actor best known for his roles as Lee Carter in "Son of Rambow", Eustace Scrubb in "The Chronicles of Narnia: The Voyage of the Dawn Treader", Kenny Rossmore in "We're the Millers", and Gally in "The Maze Runner".
Categories: Stars
Created on the: Wii U