Famous Mii Characters & QR Codes
for your Nintendo Wii U, Wii, & 3DS
Search for famous Mii Characters and get printable, step-by-step instructions on how to create them. Find Mii QR Codes and scan them with your 3DS or Wii U.
Fill your Mii Plaza with celebrities!
Mii of the Day - Monday, October 20, 2014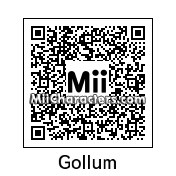 Created by: Andy Anonymous
The ancient and wretched creature from "The Hobbit" and "The Lord of the Rings" by J.R.R. Tolkien, as seen in full CGI in the blockbuster film versions. He is bound to the One Ring, which he calls his "precious".
Categories: Movies
Created on the: Wii U