Famous Mii Characters & QR Codes
for your Nintendo Wii U, Wii, & 3DS
Search for famous Mii Characters and get printable, step-by-step instructions on how to create them. Find Mii QR Codes and scan them with your 3DS or Wii U.
Fill your Mii Plaza with celebrities!
Mii of the Day - Friday, August 28, 2015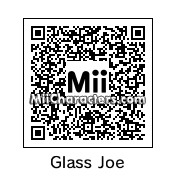 Created by: Digibutter
French boxer from the Punch Out!! series. He is often Little Mac's first opponent.
Categories: Games
Created on the: 3ds