Famous Mii Characters & QR Codes
for your Nintendo Wii U, Wii, & 3DS
Search for famous Mii Characters and get printable, step-by-step instructions on how to create them. Find Mii QR Codes and scan them with your 3DS or Wii U.
Fill your Mii Plaza with celebrities!
Mii of the Day - Thursday, January 29, 2015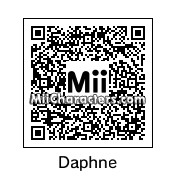 Created by: madhatter13
The pretty purple-wearing member of Mystery Inc. who first appeared in the 1969 cartoon "Scooby-Doo, Where Are You?". Voiced by multiple actresses over the years but originally by Stefanianna Christopherson and Heather North.
Categories: Toons
Created on the: 3ds