Famous Mii Characters & QR Codes
for your Nintendo Wii U, Wii, 3DS, and Miitomo
Search for famous Mii Characters and get printable, step-by-step instructions on how to create them. Scan Mii QR Codes with your 3DS, Wii U, or Miitomo App.
Fill your Mii Plaza with celebrities!
Mii of the Day - Sunday, October 24, 2021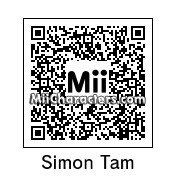 Created by: Andy Anonymous
A wealthy doctor on the lam aboard the space transport Serenity from the TV series "Firefly" as played by Sean Maher. He protects his sister River devotedly after rescuing her from the Alliance and their experiments.
Categories: TV
Created on the: Wii U