if you're not familiar with this mii...
Skip It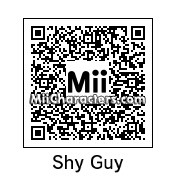 Created by: Kookaman725
A character from the Super Mario series. Shy Guys come in many different colors and all of them wear hoods and white masks. They like to say "Eeowh." Most Shy Guys work for Bowser. As their name suggests, they are often shy.
Categories: Games
Created on the: Wii U