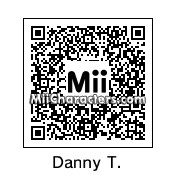 Mii Plaza Name: Danny T.
Created by: Davor
Actor from countless films including "From Dusk till Dawn", "Bubble Boy", "Spy Kids", "Grindhouse", and "Machete". He often plays a villain and has a signature tattoo of a woman in a sombrero on his chest.
Categories: Stars
Created on the: Wii
Wii U Instructions:
Start a new character from scratch and make these changes.
Gender
Male
Head
Type: 2nd row, 1st column
Facial Structure: 4th row, 3rd column
Skin Color: 2nd row, 1st column
Hair
Type: 5th page, 3rd row, 3rd column
Color: 1st row, 1st column
Eyebrows
Type: 2nd page, 3rd row, 1st column
Color: 1st row, 1st column
Rotate: 1 clockwise
Size: 1 bigger
Vertical: 1 up
Eyes
Type: 3rd page, 1st row, 2nd column
Rotate: 1 clockwise
Size: 2 smaller
Horizontal: 2 wider
Vertical: 3 up
Nose
Type: 4th row, 1st column
Size: 1 bigger
Vertical: 1 up
Mouth
Type: 1st page, 3rd row, 1st column
Size: 2 bigger
Vertical: 2 down
Mustache
Type: 2nd row, 1st column
Size: 3 bigger
Vertical: 1 down
Size
Height: 61%
Weight: 85%
Nickname
Danny T.
Favorite Color
2nd row, 6th column
Mii Creator
Davor
Alternative Miis