Famous Mii Characters & QR Codes
for your Nintendo Wii U, Wii, & 3DS
Search for famous Mii Characters and get printable, step-by-step instructions on how to create them. Find Mii QR Codes and scan them with your 3DS or Wii U.
Fill your Mii Plaza with celebrities!
Mii of the Day - Friday, January 30, 2015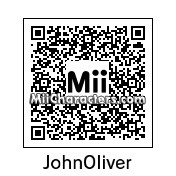 Created by: Andy Anonymous
British comedian, actor, and commentator. Host of weekly comedy news show "Last Week Tonight" on HBO. He served as a correspondent on "The Daily Show" starting in 2006 and as a hosting fill-in for Jon Stewart.
Categories: Stars
Created on the: Wii U