Famous Mii Characters & QR Codes
for your Nintendo Wii U, Wii, 3DS, and Miitomo
Search for famous Mii Characters and get printable, step-by-step instructions on how to create them. Scan Mii QR Codes with your 3DS, Wii U, or Miitomo App.
Fill your Mii Plaza with celebrities!
Mii of the Day - Tuesday, September 25, 2018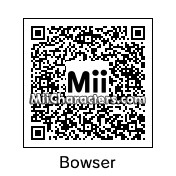 Created by: JetFox89
King of the Koopas and Mario's arch-nemesis from the Super Mario Bros games. His main goal is to kidnap Princess Peach and take over the Mushroom Kingdom, but his plans are always foiled by Mario and Luigi.
Categories: Games
Created on the: 3ds