Famous Mii Characters & QR Codes
for your Nintendo Wii U, Wii, 3DS, and Miitomo
Search for famous Mii Characters and get printable, step-by-step instructions on how to create them. Scan Mii QR Codes with your 3DS, Wii U, or Miitomo App.
Fill your Mii Plaza with celebrities!
Mii of the Day - Wednesday, August 24, 2016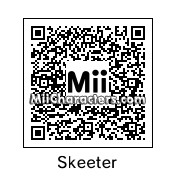 Created by: 90sToonLover38
Doug's best friend from the Nickelodeon cartoon "Doug". He is known for the honking sounds he makes. Honk! Honk!
Categories: Toons
Created on the: 3ds