Famous Mii Characters & QR Codes
for your Nintendo Wii U, Wii, & 3DS
Search for famous Mii Characters and get printable, step-by-step instructions on how to create them. Find Mii QR Codes and scan them with your 3DS or Wii U.
Fill your Mii Plaza with celebrities!
Mii of the Day - Thursday, October 23, 2014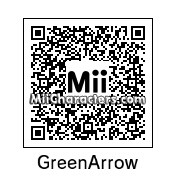 Created by: Golden
The green archer of DC comics is Oliver Queen's alter-ego. This billionaire businessman uses his masterful aim, trick arrows, martial arts skills, and agility to fight the crime in Star City.
Categories: Toons
Created on the: Wii U