miis tagged with: demon sisters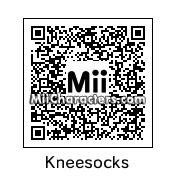 Created by: Hexicune
The younger of the two demon sisters from Panty and Stocking. She is obsessed with rules and tries to keep her sister in check. She also wields two sythes from her knee-high socks to slash her enemies with.
Categories: Toons
Created on the: 3ds

Created by: Hexicune
The eldest of the two demon sisters from the anime "Panty & Stocking with Garterbelt". She may seem sassy and calm, but she has quite the unstable temperament and tends to get overexcited at times, which can lead to their defeat by the angels.
Categories: Toons
Created on the: 3ds