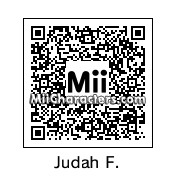 Mii Plaza Name: Judah F.
Created by: Dann
Actor and comedian known for his trucker hats, thick rimmed glasses, and unkempt appearance. He plays Frank Rossitano on the sitcom "30 Rock".
Categories: Stars
Created on the: Wii
Wii U Instructions:
Start a new character from scratch and make these changes.
Gender
Male
Head
Type: 4th row, 2nd column
Hair
Type: 9th page, 4th row, 1st column
Color: 1st row, 1st column
Eyebrows
Type: 1st page, 2nd row, 3rd column
Color: 1st row, 1st column
Rotate: 2 clockwise
Size: 1 smaller
Horizontal: 1 wider
Vertical: 3 up
Eyes
Type: 1st page, 2nd row, 1st column
Rotate: 1 clockwise
Size: 3 smaller
Horizontal: 1 wider
Vertical: 1 up
Nose
Type: 2nd row, 2nd column
Size: 2 bigger
Vertical: 1 up
Mouth
Type: 2nd page, 3rd row, 1st column
Size: 3 smaller
Vertical: 2 down
Glasses
Type: 1st row, 2nd column
Nickname
Judah F.
Mii Creator
Dann