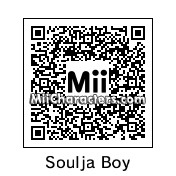 Mii Plaza Name: Soulja Boy
Created by: Soulja Boy
Rapper and dancer best known for his hit single "Crank That (Soulja Boy)" and the dance that goes with it. He's also known for wearing sunglasses decorated with puff paint.
Categories: Music
Created on the: Wii
Check Mii Out: 9946-1475-2144
Wii Instructions:
Start a new character from scratch and make these changes.
Gender
Male
Head
Skin Color: 2nd row, 3rd column
Hair
Type: 3rd page, 4th row, 2nd column
Eyebrows
Type: 2nd page, 1st row, 2nd column
Color: 2nd row, 1st column
Rotate: 2 clockwise
Size: 1 bigger
Horizontal: 2 narrower
Vertical: 4 down
Eyes
Type: 4th page, 4th row, 1st column
Size: 2 bigger
Horizontal: 1 narrower
Nose
Type: 4th row, 2nd column
Mouth
Type: 1st page, 2nd row, 2nd column
Glasses
Type: 1st row, 2nd column
Color: 2nd row, 3rd column
Size: 1 smaller
Size
Height: 100%
Weight: 46%
Nickname
Soulja Boy
Favorite Color
2nd row, 5th column
Mii Creator
Soulja Boy