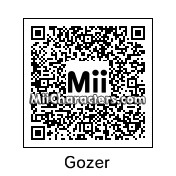 Mii Plaza Name: Gozer
Created by: Groucho
In the movie "Ghost Busters", she's the Sumerian shape-shifting god served by Zuul. To quote Winston, "The next time someone asks you if you're a god you say, 'yes!'"
Categories: Movies
Created on the: Wii
Check Mii Out: 4591-7718-7889
Wii Instructions:
Start a new character from scratch and make these changes.
Gender
Male
Head
Facial Features: 3rd row, 3rd column
Hair
Type: 1st page, 3rd row, 2nd column
Color: 1st row, 1st column
Eyebrows
Type: 1st page, 2nd row, 1st column
Color: 1st row, 1st column
Rotate: 2 clockwise
Vertical: 1 up
Eyes
Type: 3rd page, 3rd row, 2nd column
Color: 1st row, 3rd column
Rotate: 3 clockwise
Size: 1 smaller
Horizontal: 2 wider
Vertical: 4 up
Nose
Type: 1st row, 3rd column
Vertical: 2 up
Mouth
Type: 1st page, 4th row, 3rd column
Size: 1 bigger
Vertical: 1 up
Size
Height: 88%
Weight: 24%
Nickname
Gozer
Favorite Color
2nd row, 5th column
Mii Creator
Groucho