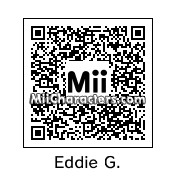 Mii Plaza Name: Eddie G.
Created by: Hobokajoe
Crafty WWE wrestler and former champion. He was known as "Latino Heat" and would lie, cheat, or steal to gain victory in his matches.
Categories: Sports
Created on the: Wii
Wii Instructions:
Start a new character from scratch and make these changes.
Gender
Male
Head
Skin Color: 2nd row, 1st column
Hair
Type: 2nd page, 2nd row, 2nd column
Color: 1st row, 1st column
Eyebrows
Type: 1st page, 2nd row, 2nd column
Color: 1st row, 1st column
Rotate: 1 clockwise
Horizontal: 1 narrower
Eyes
Type: 1st page, 2nd row, 3rd column
Size: 1 smaller
Vertical: 1 up
Nose
Type: 3rd row, 1st column
Size: 2 smaller
Vertical: 1 up
Mouth
Type: 1st page, 1st row, 3rd column
Vertical: 1 up
Beard
Type: 1st row, 2nd column
Mustache
Type: 2nd row, 1st column
Size: 1 smaller
Vertical: 2 up
Size
Height: 49%
Weight: 53%
Nickname
Eddie G.
Favorite Color
2nd row, 6th column
Mii Creator
Hobokajoe