if you're not familiar with this mii...
Skip It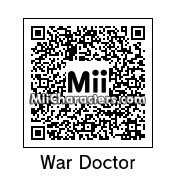 Created by: Andy Anonymous
John Hurt played an incarnation of The Doctor on the popular British sci-fi series, Doctor Who, in 2013. The War Doctor came between the Eighth and Ninth Doctor, and was the one who fought in (and ended) the Time War between Time Lords and Daleks.
Categories: TV
Created on the: Wii U