if you're not familiar with this mii...
Skip It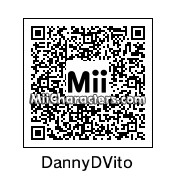 Mii Plaza Name: DannyDVito
Created by: Chopsuey
Actor who rose to fame as Louie De Palma on "Taxi". He's been in countless movies including "Romancing the Stone", "Throw Momma from the Train", and "Renaissance Man" and currently stars on "It's Always Sunny in Philadelphia".
Categories: Stars
Created on the: Wii