if you're not familiar with this mii...
Skip It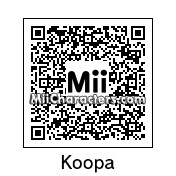 Created by: Kookaman725
A character from the Super Mario series. Koopa Troopas are turtle-like enemies that have yellow skin with a green shell of armor. Some Koopas have red shells. They make a high-pitched whooping sound that is iconic to the voice of all Koopa Troopas.
Categories: Games
Created on the: Wii U