if you're not familiar with this mii...
Skip It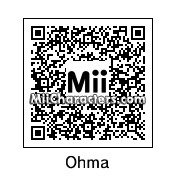 Created by: rhythmclock
A powerful ghost from the anime "Gakkou no Kaidan". Retaining a serious grudge, Ohma brings back the ghosts who lost to Satsuki, possesses nearly everyone in the protagonist's school, and even confronts his former ally, Amanojaku, all in one episode!
Categories: Toons
Created on the: 3ds