if you're not familiar with this mii...
Skip It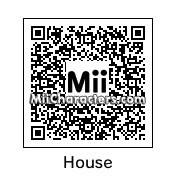 Created by: Arc of Dark
The main character of the show "House M.D." played by Hugh Laurie. He is an extremely brilliant Diagnostician, but he is also a mean, lonely, drug-addicted cripple. He walks with a limp using a cane and takes obscene amounts of Vicodin for chronic pain.
Categories: TV
Created on the: 3ds