if you're not familiar with this mii...
Skip It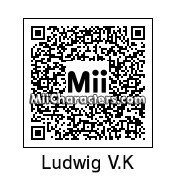 Created by: godehteikooc
AKA Kooky von Koopa in the cartoons, he is the eldest of the Koopalings. He acts as the leader of the group under Bowser's commands. He is the intelligent, arrogant and show-offy one in the group. First appeared in Super Mario Bros. 3.
Categories: Games
Created on the: Wii U