if you're not familiar with this mii...
Skip It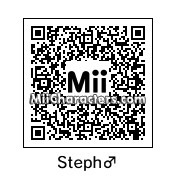 Created by: HawlSera
A character from the game "Gender Bender DNA Twister Extreme". A security guard working to defend Siren's Point from overly fat ducks and lingerie thieves! Steph used to be a woman until someone changed her into a him, he's kind of grown used to it.
Categories: Games
Created on the: 3ds