if you're not familiar with this mii...
Skip It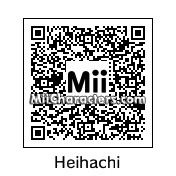 Created by: Eben Frostey
From Namco's 3D fighting game Tekken. Best known as an antagonist obsessed with throwing certain family members off cliffs. This is how he looks in Tekken Tag Tournament 2, younger than usual. He has been in every single Tekken game!
Categories: Games
Created on the: 3ds