if you're not familiar with this mii...
Skip It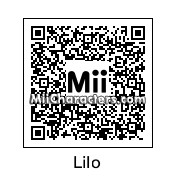 Created by: suicidemission
From Disney's "Lilo and Stitch". Originally an outcast from her peers, Lilo finds her new best friend in an alien outcast who comes to be named Stitch. Together they create a bond that is out of this world.
Categories: Toons
Created on the: 3ds