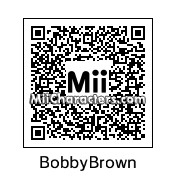 Mii Plaza Name: BobbyBrown
Created by: deez
R&B singer who rose to fame as a member of the R&B boy band New Edition. He's also known for his solo hits like "My Prerogative" and his marriage to Whitney Houston.
Categories: Music
Created on the: Wii
Miitomo Instructions:
Start a new character from scratch and make these changes.
Gender
Male
Head
Type: 1st row, 4th column
Skin Color: 2nd row, 3rd column
Hair
Color: 1st row, 1st column
Eyebrows
Color: 1st row, 1st column
Horizontal: 1 narrower
Eyes
Nose
Size: 2 bigger
Mouth
Color: 1st row, 3rd column
Vertical: 2 down
Mustache
Type: 2nd row, 2nd column
Size: 2 smaller
Vertical: 1 down
Beard
Type: 2nd row, 1st column
Click "Next"
Nickname
BobbyBrown