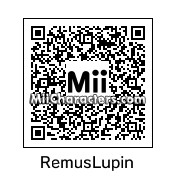 Mii Plaza Name: RemusLupin
Created by: David
A wizard from Harry Potter and a werewolf. A member of the Order of the Phoenix, he was a Defense Against the Dark Arts teacher at Hogwarts and taught Harry how to summon a Patronus. Played by David Thewlis.
Categories: Movies
Created on the: Wii
Miitomo Instructions:
Start a new character from scratch and make these changes.
Gender
Male
Head
Type: 2nd row, 5th column
Facial Structure: 2nd row, 3rd column
Hair
Color: 2nd row, 2nd column
Eyebrows
Color: 2nd row, 2nd column
Size: 1 smaller
Horizontal: 1 wider
Vertical: 2 down
Eyes
Color: 1st row, 3rd column
Size: 1 smaller
Horizontal: 2 wider
Vertical: 1 down
Nose
Vertical: 2 down
Mouth
Size: 1 bigger
Vertical: 3 down
Mustache
Type: 1st row, 2nd column
Vertical: 2 down
Facial Hair Color
Color: 2nd row, 2nd column
Size (1st tab)
Height: 60%
Click "Next"
Nickname
RemusLupin
Birthday
March 10th
Alternative Miis