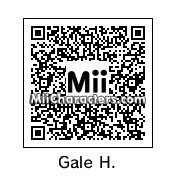 Mii Plaza Name: Gale H.
Created by: zaccardit
Katniss's long-time friend from "The Hunger Games". He looks after Katniss's family when she enters the Hunger Games. Played by Liam Hemsworth.
Categories: Movies
Created on the: Wii
Check Mii Out: 3491-6710-1243
3DS Instructions:
Start a new character from scratch and make these changes.
Gender
Male
Head
Facial Structure: 3rd row, 3rd column
Skin Color: 2nd from the top
Hair
Type: 1st page, 4th row, 3rd column
Color: 1st from the top
Eyebrows
Color: 1st from the top
Eyes
Type: 1st page, 2nd row, 3rd column
Color: 2nd from the top
Size
Height: 90%
Weight: 0%
Nickname
Gale H.
Favorite Color
2nd row, 6th column
Mii Creator
zaccardit