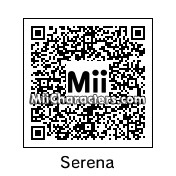 Mii Plaza Name: Serena
Created by: G DIVA
The younger of the tennis-playing Williams sisters. She's one of the greatest of all time and occasionally has more of a problem with her temper than with her opponent.
Categories: Sports
Created on the: Wii
Check Mii Out: 1808-7662-2564
3DS Instructions:
Start a new character from scratch and make these changes.
Gender
Female
Head
Type: 1st row, 2nd column
Skin Color: 5th from the top
Hair
Type: 9th page, 2nd row, 2nd column
Color: 1st from the top
Eyebrows
Type: 2nd page, 3rd row, 3rd column
Color: 1st from the top
Vertical: 1 down
Eyes
Type: 4th page, 2nd row, 1st column
Rotate: 1 counterclockwise
Size: 2 smaller
Horizontal: 3 wider
Vertical: 1 down
Nose
Type: 4th row, 2nd column
Size: 1 smaller
Vertical: 3 down
Mouth
Type: 1st page, 1st row, 2nd column
Color: 2nd from the top
Size: 3 bigger
Vertical: 3 down
Size
Height: 80%
Weight: 15%
Nickname
Serena
Favorite Color
2nd row, 5th column
Mii Creator
G DIVA