if you're not familiar with this mii...
Skip It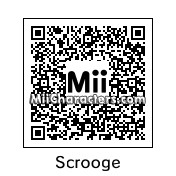 Mii Plaza Name: Scrooge
Created by: J. Hancock
Uncle Scrooge is Donald Duck's uncle and the great uncle of Huey, Dewey, and Louie from Disney cartoons like DuckTales. He's a miserly old Scottish duck who loves to swim in his money.
Categories: Toons
Created on the: Wii