if you're not familiar with this mii...
Skip It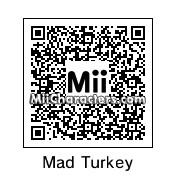 Mii Plaza Name: Mad Turkey
Created by: Toon and Anime
Look closely at the head of this mii and you will see one of the mad turkeys from South Park. These genetic mutations took over South Park when Starvin Marvin came to visit for Thankgiving.
Created on the: Wii