if you're not familiar with this mii...
Skip It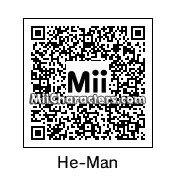 Created by: Arc of Dark
The hero of the cartoon "He-Man and the Masters of the Universe." His real name is Adam, Prince of Eternia. By holding aloft his mighty sword and shouting, "BY THE POWER OF GREYSKULL!" he becomes He-Man, the most powerful man in the universe.
Categories: Toons
Created on the: 3ds