if you're not familiar with this mii...
Skip It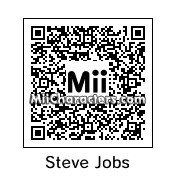 Mii Plaza Name: Steve Jobs
Created by: Acidevil
Co-founder, Chairman, and CEO of Apple Inc. He gave the world the iPod. He likes to say "Boom!" and "One more thing..." during keynote addresses. He is able to create Reality Distortion Fields (RDFs) that get both Apple fans and detractors into a tizzy.
Categories: Stars
Created on the: Wii