if you're not familiar with this mii...
Skip It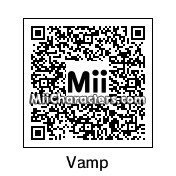 Created by: Arc of Dark
A villain from the "Metal Gear Solid" series of video games. He is a member of the special forces unit, Dead Cell, who looks and acts exactly like a vampire, but of course there are no such things as vampires. He is also very good with knives.
Categories: Games
Created on the: 3ds