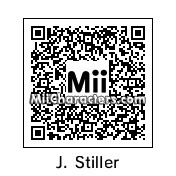 Mii Plaza Name: J. Stiller
Created by: celery
Actor and comedian probably best known for his roles as fathers. He played Frank Costanza, George's father on "Seinfeld". He's also Arthur Spooner, Carrie's father on "King of Queens". In real life, he's Ben Stiller's father.
Categories: Stars
Created on the: Wii
Miitomo Instructions:
Start a new character from scratch and make these changes.
Gender
Male
Head
Type: 1st row, 4th column
Facial Structure: 2nd row, 6th column
Skin Color: 1st row, 2nd column
Hair
Color: 1st row, 4th column
Eyebrows
Color: 2nd row, 3rd column
Rotate: 6 clockwise
Size: 1 smaller
Horizontal: 2 wider
Vertical: 8 down
Eyes
Color: 2nd row, 2nd column
Rotate: 1 clockwise
Size: 4 smaller
Horizontal: 1 wider
Vertical: 1 up
Nose
Size: 1 bigger
Mouth
Vertical: 3 down
Mustache
Type: 1st row, 2nd column
Vertical: 1 down
Mole
Add a mole
Size: 4 smaller
Horizontal: 6 right
Vertical: 10 down
Facial Hair Color
Color: 1st row, 4th column
Size (1st tab)
Height: 33%
Weight: 31%
Click "Next"
Nickname
J. Stiller