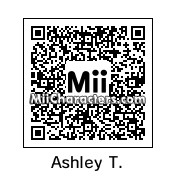 Mii Plaza Name: Ashley T.
Created by: Mike 4
Actress and singer who plays Maddie Fitzpatrick in Disney's "The Suite Life of Zack & Cody" and Sharpay Evans in "High School Musical". She also provides the voice for Candace Flynn in "Phineas & Ferb".
Categories: Stars
Created on the: Wii
Wii U Instructions:
Start a new character from scratch and make these changes.
Gender
Female
Head
Type: 2nd row, 1st column
Make-Up: 3rd row, 1st column
Skin Color: 2nd row, 2nd column
Hair
Type: 6th page, 3rd row, 3rd column
Color: 4th row, 2nd column
Eyebrows
Type: 1st page, 2nd row, 3rd column
Eyes
Type: 2nd page, 4th row, 2nd column
Color: 2nd row, 1st column
Rotate: 1 counterclockwise
Vertical: 1 down
Nose
Type: 2nd row, 2nd column
Size: 1 bigger
Mouth
Type: 1st page, 1st row, 2nd column
Size: 1 bigger
Vertical: 1 down
Size
Height: 76%
Weight: 23%
Nickname
Ashley T.
Favorite Color
1st row, 6th column
Birthday
July 2nd
Mii Creator
Mike 4