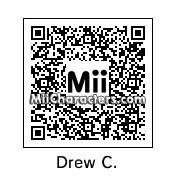 Mii Plaza Name: Drew C.
Created by: Cjv
Comedian and star of many TV shows such as "The Drew Carey Show", "Whose Line Is It Anyway?", and "The Price is Right".
Categories: Stars
Created on the: Wii
Wii U Instructions:
Start a new character from scratch and make these changes.
Gender
Male
Head
Type: 2nd row, 2nd column
Facial Structure: 3rd row, 3rd column
Skin Color: 2nd row, 2nd column
Hair
Type: 4th page, 4th row, 3rd column
Color: 4th row, 2nd column
Eyebrows
Type: 2nd page, 2nd row, 3rd column
Color: 1st row, 1st column
Rotate: 2 clockwise
Size: 2 bigger
Vertical: 1 up
Eyes
Type: 2nd page, 3rd row, 3rd column
Rotate: 1 counterclockwise
Size: 2 smaller
Horizontal: 1 wider
Vertical: 3 up
Nose
Type: 4th row, 2nd column
Size: 2 smaller
Vertical: 3 up
Mouth
Type: 1st page, 3rd row, 2nd column
Vertical: 5 up
Glasses
Type: 1st row, 3rd column
Size: 3 bigger
Vertical: 2 up
Size
Height: 100%
Weight: 100%
Nickname
Drew C.
Favorite Color
2nd row, 4th column
Mii Creator
Cjv
Alternative Miis