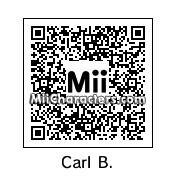 Mii Plaza Name: Carl B.
Created by: Toon and Anime
Carl is the next door neighbor to the Aqua Teen Hunger Force. This tends to cost him the use of his pool, car, home and more than a little blood on a daily basis.
Categories: Toons
Created on the: Wii
Wii U Instructions:
Start a new character from scratch and make these changes.
Gender
Male
Head
Type: 3rd row, 2nd column
Facial Structure: 4th row, 1st column
Hair
Type: 5th page, 2nd row, 2nd column
Color: 3rd row, 2nd column
Eyebrows
Type: 2nd page, 3rd row, 3rd column
Color: 1st row, 1st column
Horizontal: 1 narrower
Eyes
Color: 1st row, 2nd column
Size: 1 smaller
Vertical: 3 up
Nose
Type: 4th row, 2nd column
Vertical: 2 up
Mouth
Type: 1st page, 1st row, 3rd column
Size: 4 smaller
Vertical: 1 up
Mole
Add a mole
Size: 2 bigger
Horizontal: 6 right
Vertical: 1 up
Mustache
Type: 2nd row, 1st column
Size: 2 bigger
Vertical: 2 up
Size
Height: 74%
Weight: 100%
Nickname
Carl B.
Favorite Color
2nd row, 5th column
Birthday
February 18th
Mii Creator
Toon&Anime
Alternative Miis