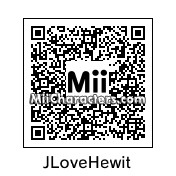 Mii Plaza Name: JLoveHewit
Created by: St. Patty
Actress who got her big break as Sarah Reeves on "Party of Five". She went on to star in popular films like "I Know What You Did Last Summer", "Heartbreakers", and "Can't Hardly Wait".
Categories: Stars
Created on the: Wii
Check Mii Out: 2505-6255-0585
Wii Instructions:
Start a new character from scratch and make these changes.
Gender
Female
Head
Type: 2nd row, 1st column
Facial Features: 3rd row, 2nd column
Skin Color: 2nd row, 1st column
Hair
Type: 5th page, 1st row, 1st column
Part: Flipped
Eyebrows
Color: 2nd row, 2nd column
Rotate: 2 clockwise
Size: 2 smaller
Horizontal: 1 wider
Vertical: 5 down
Eyes
Type: 2nd page, 4th row, 2nd column
Color: 1st row, 3rd column
Rotate: 1 counterclockwise
Size: 2 smaller
Vertical: 4 down
Nose
Type: 2nd row, 2nd column
Size: 2 smaller
Vertical: 5 down
Mouth
Type: 1st page, 1st row, 2nd column
Color: 2nd one
Vertical: 5 down
Mole
Add a mole
Size: 1 bigger
Horizontal: 6 right
Vertical: 1 down
Mustache
Type: 1st row, 2nd column
Size: 2 smaller
Facial Hair Color
Color: 2nd row, 4th column
Size
Height: 75%
Weight: 15%
Nickname
JLoveHewit
Favorite Color
2nd row, 5th column
Birthday
February 21st
Mii Creator
St. Patty
Alternative Miis