if you're not familiar with this mii...
Skip It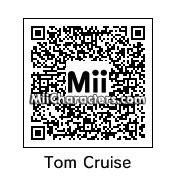 Mii Plaza Name: Tom Cruise
Created by: Brandon
Box office and tabloid sensation. Movies include "Top Gun", "Mission Impossible", "Eyes Wide Shut", "Risky Business", "Minority Report", "Rain Man", "Vanilla Sky", etc. Outspoken about his Scientology religion and married to Katie Holmes.
Categories: Stars
Created on the: Wii