if you're not familiar with this mii...
Skip It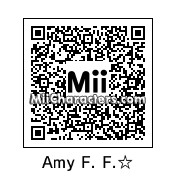 Created by: complete geek
Dr. Amy Farrah Fowler, Ph.D., is a neuroscientist. She has a Ph.D. in neurobiology, with a research focus on addiction in primates and invertebrates, occasionally mentioning such experiments as getting a Capuchin monkey addicted to cigarettes or starfish.
Categories: TV
Created on the: 3ds