if you're not familiar with this mii...
Skip It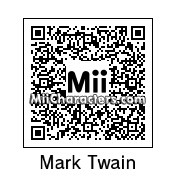 Created by: Andy Anonymous
Samuel Clemens, writing under the pen name of Mark Twain, was one of the most famous and important writers in American history. His cutting wit as a satirist remains fresh and relevant even a century since his death.
Categories: History
Created on the: Wii U