if you're not familiar with this mii...
Skip It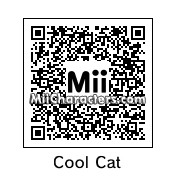 Created by: BubsyTheBobcat
From the B-movie, Cool Cat saves the Kids. he is a cat who likes helping people in need. he became a meme after his movie was reviewed by I Hate Everything on YouTube, followed by his creator, Derek Savage trying and failing to take down the video.
Categories: Miscellaneous
Created on the: 3ds