if you're not familiar with this mii...
Skip It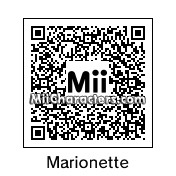 Created by: 3dsGamer2007
AKA "The Puppet" from the "Five Nights at Freddy's" game series. Located in the Prize Corner in "Five Nights At Freddy's 2". Pops up when you wear your Freddy mask too long and when you wind up the music box for too long.
Categories: Games
Created on the: 3ds