if you're not familiar with this mii...
Skip It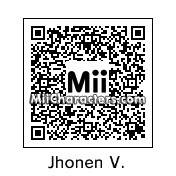 Created by: wolforchid
Jhonen C. Vasquez is a Latino American comic book writer, cartoonist, and music video director. He is best known for creating the Nickelodeon's animated series Invader Zim, the comic book Johnny the Homicidal Maniac and I Feel Sick.
Categories: Stars
Created on the: 3ds