if you're not familiar with this mii...
Skip It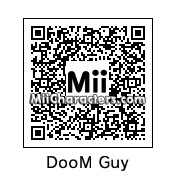 Created by: Hootsalot
From the game "Doom", the little face that appears in your H.U.D. grinning like a madman when you finally get your demon blood-stained hands on the B.F.G. 9000, finally climbs back from Hell to eliminate the Demons in your Smash Bros. game!
Categories: Games
Created on the: 3ds