if you're not familiar with this mii...
Skip It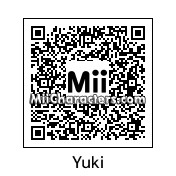 Created by: rhythmclock
A ghost from the anime "Gakkou no Kaidan". Having drowned in a lake while waiting for her mother's help, Yuki now haunts a hotel and has once tried to capture one of Satsuki's relatives. According to the English dub, she used to be a popular girl...
Categories: Toons
Created on the: 3ds