if you're not familiar with this mii...
Skip It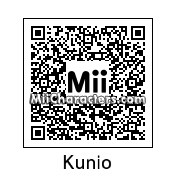 Created by: DragonMasterP
The title character of the "Nekketsu Kouha Kunio-Kun" (Hot Blooded Tough Guy Kunio) series. He's the guardian of Nekketsu High, and defends it against rival students, enemy schools, and even criminal groups, often alongside his friend and rival Riki.
Categories: Games
Created on the: Wii U