if you're not familiar with this mii...
Skip It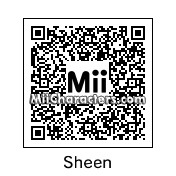 Created by: robbieraeful
One of Jimmy's best friends from the cartoon "Jimmy Neutron". He really loves the Ultra Lord show and has many action figures. Later on, he got stranded on the on Planet Zeenu for the spin-off series "Planet Sheen". Voiced by Jeff Garcia.
Categories: Toons
Created on the: 3ds