if you're not familiar with this mii...
Skip It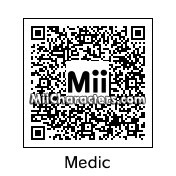 Created by: TigerheartFire
From "Team Fortress 2". What he lacks in compassion, respect for human dignity, & any sort of formal training in medicine, he makes up for with a bottomless supply of giant needles & a trembling enthusiasm for plunging them into exposed flesh.
Categories: Games
Created on the: 3ds