if you're not familiar with this mii...
Skip It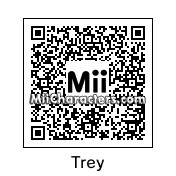 Created by: rhythmclock
A tree from "Rhythm Heaven Megamix". In charge of Lush Tower, he reveals a prophecy about the Tower's "Flow" being able to send one back to Heaven World (assuming all conditions are met, that is). This Mii's face is based on Trey's North American design.
Categories: Games
Created on the: 3ds