if you're not familiar with this mii...
Skip It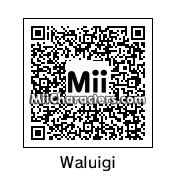 Created by: CancerTurtle
Luigi's even taller and lankier rival. He seems to show up alonside Wario in most Mario sports games, but what exactly is his relation to Wario? No one really knows, aside from the fact he was originally created so Wario would have a doubles partner.
Categories: Games
Created on the: 3ds