if you're not familiar with this mii...
Skip It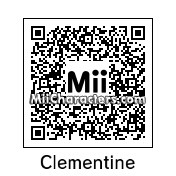 Created by: OnyxOsprey
The deutragonist of Telltale Games' "The Walking Dead" Season 1 and the protagonist of Season 2. A kindhearted young girl orphaned by the apocalypse, Clementine must grow up fast. This Mii is based off of her Season 2 appearance.
Categories: Games
Created on the: Wii U