if you're not familiar with this mii...
Skip It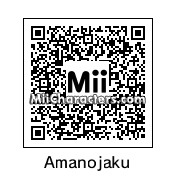 Created by: rhythmclock
The demonic ghost from the anime "Gakkou no Kaidan". After being (accidentally) banished into Satsuki's pet cat, this ghost tries to torment the main protagonists every so often. Despite this, he occasionally helps ambush other ghosts out of mercy.
Categories: Toons
Created on the: 3ds