if you're not familiar with this mii...
Skip It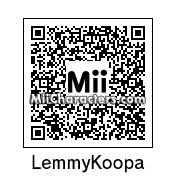 Created by: godehteikooc
AKA Hip Koopa in the cartoons, he is a member of the Koopalings. He's depicted as a small, fun-loving child and has been shown to be capable of being serious when the situation calls for it. Originally appearing in Super Mario Bros. 3.
Categories: Games
Created on the: Wii U